Mark's Mystery Box
WWE Clash, Gable, XFL Teams, Gargoyles, this one is all over the place.
a year ago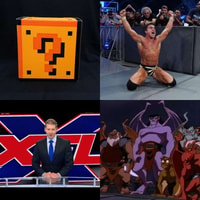 Season 6 - Episode #12: Mark's Mystery Box
This episode is way different then usual. All I can say is stick around and you will be entertained (hopefully).
P.S. Make sure to listen at the XFL segment starting at 44:55. You won't regret it!
Follow us on Twitter @Behind_Gorilla send questions, comments and ideas for future podcasts!
Follow Mark @MARKYMARKBRAND and Harris @HarrisWiIson
Find out more at https://behind-the-gorilla.pinecast.co