The KISS Demon
The partnership between WCW and KISS did not go as planned.
a year ago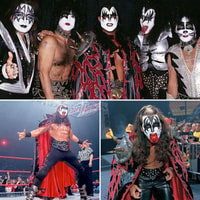 Season 6 - Episode #51: The KISS Demon
1999-2000 was a strange time for WCW but that didn't mean they weren't trying. Eric Bischoff penned a deal with KISS to perform on Nitro and usher in a new wrestler based of Gene Simmons iconic Demon character. However, it was not the hit they were looking for but definitely led to some very bizarre moments. Including some in the ring and some backstage.
Follow us on Twitter and Instagram @Behind_Gorilla and send questions, comments and ideas for future podcasts!
Follow Mark @MARKYMARKBRAND and Harris @HarrisWiIson
Find out more at https://behind-the-gorilla.pinecast.co