Santa Get's Run Over By Del Rio
For Christmas Eve RAW had a special episode that included Santa Claus getting run over and a Miracle on 34th Street Fight.
a year ago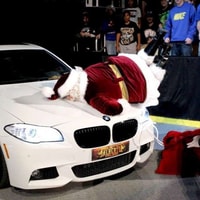 Season 6 - Episode #: Santa Get's Run Over By Del Rio
Ever wanna see Santa Claus get run over on WWE Monday Night Raw? Well if you check out the Christmas Eve episode of Raw from 2012 you can! This includes Alberto Del Rio (yawn) running over St. Nick and the entire locker room rallying around him to save Christmas. John Cena must defend Kris Kringle and battle Del Rio in a Miracle On 34th Street Fight! So much happens you must join us for this ride. Also we talk the latest WWE and AEW news.
Follow us on Twitter and Instagram @Behind_Gorilla and send questions, comments and ideas for future podcasts!
Follow Mark @MARKYMARKBRAND and Harris @HarrisWiIson
Find out more at https://behind-the-gorilla.pinecast.co