Fake Razor Ramon and Diesel
After Scott Hall and Kevin Nash left WWF/E for WCW, Vince tried to use their gimmicks again and in a very bizarre way it worked out.
a year ago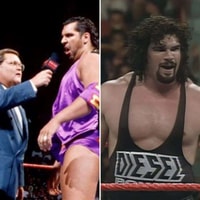 Season 6 - Episode #52: Fake Razor Ramon and Diesel
This is one of the most insane behind the scenes stories in WWE history. So Kevin Nash and Scott Hall left for WCW and started kicking the WWE's butt. So Vince decides to use the Razor Ramon and Diesel gimmicks again but with new people. It was a complete insult and a disaster but somehow led to the WWF/E winning a lawsuit against WCW?! Find out how they pulled that off in this episode!
Follow us on Twitter and Instagram @Behind_Gorilla and send questions, comments and ideas for future podcasts!
Follow Mark @MARKYMARKBRAND and Harris @HarrisWiIson
Find out more at https://behind-the-gorilla.pinecast.co