Paul Burchill The Pirate
There once was a strong up and coming wrestler named Paul Burchill and WWE decided to make him a Jack Sparrow knockoff.
8 months ago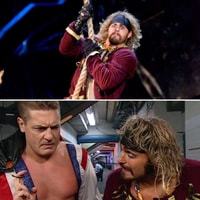 Season 6 - Episode #48: Paul Burchill The Pirate
In 2006, WWE decided to try and capitalize on the popularity of Pirates of the Caribbean and they made newcomer Paul Burchill start a pirate gimmick after his split with William Regal. They would have a very interesting feud involving cross-dressing and more. Then Vince killed the gimmick but not for the reasons you would expect.
Follow us on Twitter and Instagram @Behind_Gorilla and send questions, comments and ideas for future podcasts!
Follow Mark @MARKYMARKBRAND and Harris @HarrisWiIson
Find out more at https://behind-the-gorilla.pinecast.co