DX in Little People's Court
That time when DX was put on trial by Hornswoggle and a courtroom of little people.
7 months ago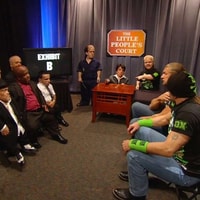 Season 6 - Episode #49: DX in Little People's Court
When DX reformed for the second time at the end of 2009 it was to accomplish one thing. Sell merch. Therefore not a whole lot of thought went into the storylines Shawn Michaels and Triple H were a part of. Thus we are led to Little People's Court. On the Christmas 2009 episode of RAW DX was tried by a jury of little people under the ring for their abuse of Hornswoggle. We promise it's even dumber than it sounds.
We also talk about the latest episode of AEW Dynamite.
Follow us on Twitter and Instagram @Behind_Gorilla and send questions, comments and ideas for future podcasts!
Follow Mark @MARKYMARKBRAND and Harris @HarrisWiIson
Find out more at https://behind-the-gorilla.pinecast.co