Pete Rose
Over a three year stretch, baseball great Pete Rose had a heated feud with Kane!
a year ago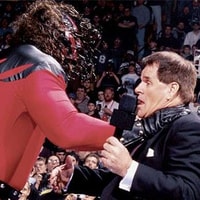 Season 6 - Episode #27: Pete Rose
He's the greatest hitter of all time and a Hall of Famer, but he's not in the MLB Hall of Fame, he's in the WWE Hall of Fame! Starting at WrestleMania 14 in 1998 Pete Rose began a feud with Kane that would span the next three WrestleMania's and lead to several memorable encounters including one with the San Diego Chicken!
Follow us on Twitter and Instagram @Behind_Gorilla and send questions, comments and ideas for future podcasts!
Follow Mark @MARKYMARKBRAND and Harris @HarrisWiIson
Find out more at https://behind-the-gorilla.pinecast.co