Vince McMahon Beats Up Stephanie McMahon
It was the first ever Father vs. Daughter Match and the peak of "soap opera" WWE.
a year ago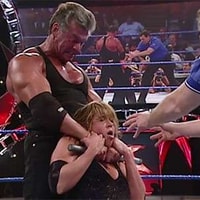 Season 6 - Episode #20: Vince McMahon Beats Up Stephanie McMahon
WWE went through a phase in 2003 where they ramped up the "soap opera" aspect of the show. This angle might be the peak of it but it also has some surprisingly good elements. Vince is full evil heel and Stephanie is an over babyface and the program they have together is truly emotional and well played by both. The match, from No Mercy 2003, is ridiculous and perfect for this show! Also we start a new current events segment where we keep it short and sweet.
Follow us on Twitter and Instagram @Behind_Gorilla send questions, comments and ideas for future podcasts!
Follow Mark @MARKYMARKBRAND and Harris @HarrisWiIson
Find out more at https://behind-the-gorilla.pinecast.co